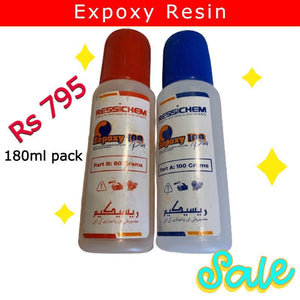 Epoxy 100g Art Resin And 80g Hardener
Regular price
Rs.795
Sale price
Rs.1,500
Unit price
per
Epoxy Art Resin And Hardener For Artist Crafting
Epoxy 100g Art Resin And 50g Hardener
High Gloss epoxy art resin clear coat will make your piece strong, safe and standout.
Usage Ratio: 1 Resin : 0.8 Hardener
Art Resin: 100 gms
Hardener: 80 gms , raisin
Mix together equal parts from each bottle, stirring for 3 minutes. Then just pour the liquid mixture over your project and spread.
Leave it to dry for 24 hours and then love it forever!
Steps (4 simple & clear steps):
Measure:
Wear gloves and pour the ratio amount of art resin and hardener in a mixing container.
TIP

 

- Mix up a little more than you think you'll need because you want to completely cover your work in one shot and not have to mix later.
Mix:
Stir it really well and thoroughly to make sure that both liquids are mixed properly. Scrape off any liquid on the mixer. Any unmixed material will leave you with sticky spots that just won't cure. It takes approximately 45 minutes for the mix to thickens so you have this much working time.
Pour:
After mixing properly, now is the time to pour the liquid. When
Phone (whatsapp): 0333-0149580
Land Line (shop): (051) 8730031
Business Hours:
11:00 AM – 10:00 PM Everyday
3:00 PM - 10 PM Fri & Sun
Address:
F-10 Markaz, In Askari Bank Plaza, Next to Maroof Hosp.,
facing F-9 Park on Service Road E, Islamabad
---
Share this Product
---