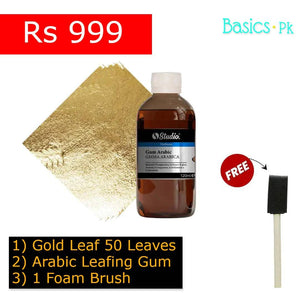 Art Pack of 52 - 50 Golden Leaf Pack + Shell Leafing Glue Gum Arabic + Foam
Regular price
Rs.999
Sale price
Rs.1,250
Unit price
per
Art Pack of 52 - 50 Golden Leaf Pack + Shell Leafing Glue Gum Arabic + Foam
120ml Arabic Leafing Glue
50 Gold Leaf Pack
Foam applying Brush
Description:
Art Pack of 52 - 50 Golden Leaf Pack + Shell Leafing Glue Gum Arabic + Foam
Golden leaf pack is used for artistic work or applying to various objects for golden finish. Beautiful look with smooth finish 
Gum Arabic is a resoluble binding agent, commonly used in the preparation of watercolors, but also useful as an adhesive, a size, and in the production of soft pastels.
It is a natural product, harvested from the Acacia tree between October and May. The highest grade of Gum Arabic comes from the Kordofan region of Sudan.
It is exceptionally pale and pure and therefore particularly suited to watercolor painting, while Nigerian Gum Arabic (while stocks last) is better suited to stone lithography and other printmaking techniques.
Phone (whatsapp): 0333-0149580
Land Line (shop): (051) 8730031
Business Hours:
11:00 AM – 10:00 PM Everyday
3:00 PM - 10 PM Fri & Sun
Address:
F-10 Markaz, In Askari Bank Plaza, Next to Maroof Hosp.,
facing F-9 Park on Service Road E, Islamabad
---
Share this Product
---